Jurassic World: Dominion Dominates Fandom Wikis - The Loop
Play Sound
This article is a stub. You can help Urusei Yatsura Wiki by expanding it.
Kotatsu-neko (コタツネコ, Kotatsu Cat or Heated Table Cat?) is a large ghost cat who loves kotatsu and haunts Ataru Moroboshi's room.
Biography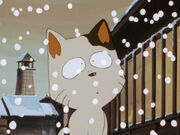 Kotatsu-neko was born in the 1800s as an ordinary stray cat, but when he tried to find warmth in the winter, he was thrown out of every house he sneaked into and froze to death. Because of this, he came back as a vengeful spirit with a love for kotatsu. He is often seen in Ataru's room or sitting with Cherry in front of his tent or drinking tea with the Tomobiki High School Principal whom he seems to be the closest to, and gets along well with Ten. Kotatsu-neko is also super strong and has bested even Ryūnosuke and Benten with his mighty palm strike. The only characters to ever best him have been the Haunted Kotatsu and Oyuki.
Appearance
Kotatsu-neko appears to be a enormous cat that is around 10 times bigger than normal cats, its whole body covered with white fur and some black big spots at left ear, back of lower body and right leg. Apart from that, Kotatsu-neko has a big eyes with small pupils, tiny black nose and some short whiskers at its face. Although Kotatsu-neko gets some razor claws, most of the time it always keep them in its paws.
Personality
Despite becoming a ghost cat for many years, he did not behave evil against its own companion like stray cats. But when he sees a kotatsu, it will try to occupy its owner by force.
Powers and Abilities
Strength - Kotatsu-neko can use a paw to eliminate his opponents with ease.
Relationships
Kotatsu-neko had set up a best friendship with Ten, whereby Ten invited it to visit Ataru's home for getting some warmth during its first appearance. Besides, Kotatsu-neko always obeyed what did Ten said.
To be added
To be added
To be added
Speech
Kotatsu-neko is rather carefree and does not speak, usually only making grunts and mumbling sounds.
Trivia
Media Appearances
Manga

Chapter 111
Chapter 113
Chapter 118
Chapter 119
Chapter 149
Chapter 159
Chapters 160-161
Chapter 163
Chapter 167
Chapter 168
Chapter 171
Chapter 172
Chapter 173
Chapters 176-177
Chapters 178-179
Chapter 181
Chapters 186-190
Chapter 192
Chapter 196
Chapter 198
Chapter 204
Chapter 205
Chapter 206
Chapter 209
Chapter 211
Chapter 214
Chapter 222

(226 in wideban)

Chapter 229
Chapter 230
Chapter 233
Chapters 235-236

(234-235 in wideban)

Chapter 236

(235 in wideban)

Chapters 237-239
Chapter 241
Chapters 242-243
Chapter 248
Chapter 250
Chapter 251
Chapter 259
Chapter 260
Chapter 262
Chapter 263
Chapters 269-271
Chapter 272
Chapter 273
Chapter 275
Chapter 279
Chapter 280
Chapter 285
Chapter 286
Chapter 290
Chapter 295
Chapter 297
Chapter 300

(304 in wideban)

Chapters 301-304

(300-303 in wideban)

Chapter 301

(300 in wideban)

Chapter 305
Chapter 306
Chapter 311
Chapter 312
Chapter 321
Chapter 322
Chapters 329-333

(331-335 in wideban)

Chapter 330

(332 in wideban)

Chapter 336
Chapter 337
Chapters 338-340
Chapters 346-348
Chapter 351
Chapters 356-366

Anime
Gallery
To be added
References