Shonen Sunday
Edit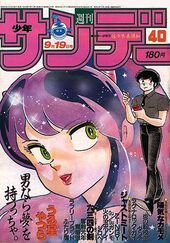 As mentioned, Urusei Yatsura was initially serialized in the large phonebook-sized weekly comic anthology Shonen Sunday. Every week a 15-page story would appear alongside more than 20 other titles. Occasionally Takahashi would get to do a few introductory colour pages, or an entire duotone installment as a bonus to readers, but as with most manga, the comic was most often in black and white.
Finding the issues of Shonen Sunday where Urusei Yatsura originally appeared today is next to impossible. Since such anthologies are made with newsprint quality paper and cost very little, they aren't meant to last. Like a newspaper, they're traditionally read once, and then thrown away. Copies do still exist but they're extremely rare.
Tankobon (単行本, Tankōbon?, Graphic Novel) is the second edition for Urusei Yatsura manga that began from year 1978. By the end of the series in 1987, Urusei Yatsura had been collected into 34 tankoban volumes (nearly 6000 pages of comics).
Wideban (ワイド版, Waidoban?, Wide Edition) is another edition for Urusei Yatsura manga since tankoban released before. These books started being released one by one at the start of the 90's around the 10th anniversary of the comic. There are a total of 15 volumes and each of them consist around 25 chapters. The arrangements of the chapters are randomly arranged in order and some of the volume may little bit differ than the graphic novel version.
Shinsoban
Edit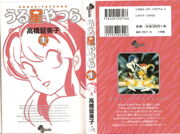 Shinsoban
(

新装版

,

Shinsoban

?

, New Edition)
is a new version for Tankobon that Shogakukan decided to re-release Urusei Yatsura manga in 2007. These new editions are identical to the original 34 tankobon with new covers and a few bonuses for fans of the series. Like many other shinsoban re-releases each volume of Urusei Yatsura contains a "My Lumx34" section that features artwork by current manga artists who were inspired by Takahashi's first serial.
List of Mangaka's names at "My Lumx34" section
Edit
Rumiko Takahashi
Mitsuru Adachi (Touch)
Mine Yoshizaki (Sgt. Frog)
Eiji Nonaka (Cromartie High School)
Sensha Yoshida (Utsurun Desu.)
Takashi Shiina (Ghost Sweeper Mikami)
Kazumi Yamashita (Life of Professor Yanagisawa)
Fujihiko Hosono (Dirty Pair)
Kazuhiro Fujita (Ushio and Tora)
Kazuichi Hanawa (Doing Time)
Minoru Furuya (Ping Pong Club)
Ryoichi Ikegami (Sanctuary)
Ito Noizi (Shakugan no Shana)
Kazuhiko Shimamoto (The Skull Man)
Ryoji Minagawa (SPRIGGAN)
Hiromu Arakawa (Fullmetal Alchemist)
Isami Nakagawa (Pojarika)
Moyoko Anno (Happy Mania)
Atsushi Kamijou (TO-Y)
Takatoshi Yamada (Dr. Koto's Clinic)
Gosho Aoyama (Detective Conan)
Junji Ito (Uzumaki)
Taiyo Matsumoto (Tekkonkinkreet)
Katsutoshi Kawai (Monkey Turn)
Tetsuo Hara (Fist of the Northstar)
Yuu Watase (Fushigi Yugi)
Koji Kumeta (Sayonara Zetsubo-Sensei)
Fusako Kuramochi (Tennen Kokekko)
Tsukasa Hojo (City Hunter)
Akira Saso (Shindo)
Kiyohiko Azuma (Azumanga Daioh)
Chika Umino (Honey and Clover)
Daijiro Morohoshi (Shiori and Shimiko)
Yukinobu Hoshino (2001 Nights)
This article is a stub. You can help Urusei Yatsura Wiki by expanding it.