Shonen Sunday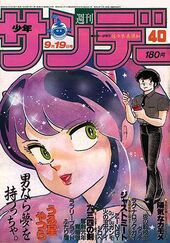 Urusei Yatsura was initially serialized in the large phonebook-sized weekly comic anthology Shonen Sunday. Every week a 15-page story would appear alongside more than 20 other titles. Occasionally Takahashi would get to do a few introductory colour pages, or an entire duotone installment as a bonus to readers, but as with most manga, the comic was most often in black and white.
Finding the issues of Shonen Sunday where Urusei Yatsura originally appeared today is next to impossible. Since such anthologies are made with newsprint quality paper and cost very little, they aren't meant to last. Like a newspaper, they're traditionally read once, and then thrown away. Copies do still exist but they're extremely rare.
Tankobon
Tankobon (単行本, Tankōbon?, Graphic Novel) is the second edition for Urusei Yatsura manga that began from year 1978. By the end of the series in 1987, Urusei Yatsura had been collected into 34 tankoban volumes (nearly 6000 pages of comics).
Wideban
Wideban (ワイド版, Waidoban?, Wide Edition) is another edition for Urusei Yatsura manga since tankoban released before. These books started being released one by one at the start of the 90's around the 10th anniversary of the comic. There are a total of 15 volumes and each of them consist around 25 chapters. The arrangements of the chapters are randomly arranged in order and some of the volume may little bit differ than the graphic novel version.
Shinsoban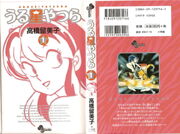 Shinsoban (新装版, Shinsoban?, New Edition) is a new version for Tankobon that Shogakukan decided to re-release Urusei Yatsura manga in 2007. These new editions are identical to the original 34 tankobon with new covers and a few bonuses for fans of the series. Like many other shinsoban re-releases each volume of Urusei Yatsura contains a "My Lumx34" section that features artwork by current manga artists who were inspired by Takahashi's first serial.
List of Mangaka's names at "My Lumx34" section
Rumiko Takahashi
Mitsuru Adachi (Touch)
Mine Yoshizaki (Sgt. Frog)
Eiji Nonaka (Cromartie High School)
Sensha Yoshida (Utsurun Desu.)
Takashi Shiina (Ghost Sweeper Mikami)
Kazumi Yamashita (Life of Professor Yanagisawa)
Fujihiko Hosono (Dirty Pair)
Kazuhiro Fujita (Ushio and Tora)
Kazuichi Hanawa (Doing Time)
Minoru Furuya (Ping Pong Club)
Ryoichi Ikegami (Sanctuary)
Ito Noizi (Shakugan no Shana)
Kazuhiko Shimamoto (The Skull Man)
Ryoji Minagawa (SPRIGGAN)
Hiromu Arakawa (Fullmetal Alchemist)
Isami Nakagawa (Pojarika)
Moyoko Anno (Happy Mania)
Atsushi Kamijou (TO-Y)
Takatoshi Yamada (Dr. Koto's Clinic)
Gosho Aoyama (Detective Conan)
Junji Ito (Uzumaki)
Taiyo Matsumoto (Tekkonkinkreet)
Katsutoshi Kawai (Monkey Turn)
Tetsuo Hara (Fist of the Northstar)
Yuu Watase (Fushigi Yugi)
Koji Kumeta (Sayonara Zetsubo-Sensei)
Fusako Kuramochi (Tennen Kokekko)
Tsukasa Hojo (City Hunter)
Akira Saso (Shindo)
Kiyohiko Azuma (Azumanga Daioh)
Chika Umino (Honey and Clover)
Daijiro Morohoshi (Shiori and Shimiko)
Yukinobu Hoshino (2001 Nights)
English Volumes
The English volumes started to be published on February 18, 2019 by Viz Media. Each of the volumes consisted of two volumes from the Tankobon edition of the manga. These also consisted of translations that are different from the 1990s version of the volumes.
Vol#
Chapters
Viz Release
1

Part 1

001. Young Love on the Run
002. Gentle Imp
003. The Sad Sound of Rain
004. Present for You
005. Between a Rock and a Hard Place
006. To Kill with Love
007. A Contemptible Good-for-Nothing
008. Good Day for a Departure
009. Showdown
Urusei Yatsura Data File 01
My Lum
Part 1 Notes
 

Part 2

010. Oyuki
011. Eros
012. Intention
013. Puppet
014. Still Waters Run Deep
015. The Yellow Ribbon of Happiness
016. Become a Woman and Start Over!
017. Obession Is a Part of Love
Urusei Yatsura Data File 02
Part 2 Notes


19 February 2019
ISBN 978-1974703425

2

Part 3

018. Father, You Were Strong
019. Disco Inferno
020. Without Even Saying Goodbye
021. If There Be Courage
022. Trouble Rains Down
023. Zodiac Cycles
024. Balmy Spring Days and the Failure Class
025. Love and Suffering
026. How I've Waited for You
Urusei Yatsura Data File 03
Part 3 Notes

Part 4

027. Sake and Tears and Men and Women
028. Diary of Tears
029. Who's That Baby?
030. Amazed in a Maze
031. Waking Up to a Nightmare
032. 4-D Camera
033. Exquisite Departure
034. Since Your Parting
035. Magic Running
036. Tanabata Date
Urusei Yatsura Data File 04
Part 4 Notes


21 May 2019
ISBN 978-1974703432

3

Part 5

037. Sakura Sensei, Enchanted Blossom
038. Everybody in the Rain
039. Ghost Story: Xerox Man
040. Youth Devoted to the White Ball
041. The Red-Cloaked Phantom
042. Surfin' SOS
043. Bathing Suit Bandit
044. Snatch the Bikini
045. Food Fight
046. Yoga Meditation
047. A Tragic Date
Urusei Yatsura Data File 05
Part 5 Notes

Part 6

048. Private Lesson
049. No Crying on the Court
050. Love Disappears on the Court
051. Parents' Day Horrors
052. Kunoichi, Running in Nara
053. Kunoichi, Lurking in Kyoto
054. Kunoichi Forever
055. Sports Festival Close Call
056. Cultural Festival Close Call
057. Drama Festival Close Call
058. Farewell Party Close Call
Urusei Yatsura Data File 06
Part 6 Notes


20 August 2019
ISBN 978-1974703449

4

Part 7

059. Memories and a Close Call
060. Genuine Close Call
061. Ataru Retires
062. Fortune Fear
063. Ten is Here
064. Ten's Love
065. A Date for Just the Two of Us
066. From Flower to Flower
067. Bean-Shooter for Ogres
068. Miss Snow Queen
069. Valentine's Day Disaster
Urusei Yatsura Data File 07
Part 7 Notes

Part 8

070. The Ant Traps of Love
071. Peach Blossom Poetry Slam
072. Eerie Earmuffs
073. Beware the Chaos Meow-Meow
074. The Flying Chaos Quartet
075. The Heian Arc, Scroll One
076. The Heian Arc, Scroll Two
077. The Heian Arc, Scroll Three
078. Love and School Violence
079. Oh, Library!
080. Children's Day Fright!
Urusei Yatsura Data File 08
Part 8 Notes


19 November 2019
ISBN 978-1974703456

5

Part 9

081. Oh, Children! Set Your Aspirations High!
082. The Shallow and the Penguin
083. A Century by Age Three
084. Her Majesty and the Amorous Rugby Player
085. Revenge of the Protozoa
086. Home Is Where You Find It
087. Deranged Marriage, Part 1
088. Deranged Marriage, Part 2
089. Deranged Marriage, Part 3
090. Deranged Marriage, Part 4
091. Marine Garbage Disposal
Urusei Yatsura Data File 09
Part 9 Notes

Part 10

092. O, Rain! Rain and Rain More! Part 1
093. O, Rain! Rain and Rain More! Part 2
094. O, Rain! Rain and Rain More! Part 3
095. Panic at the Haunted Inn
096. The Selfish Ghost
097. Beach Mystery
098. Typhoon Fun
099. Secret Mission: Date Stakeout
100. It's No Fun Being Sick!
101. A Different Dracula
102. Blood Drive of Love
Urusei Yatsura Data File 10
Part 10 Notes


18 February 2020
ISBN 978-1974703463

6
To be added


19 May 2020
ISBN 978-1974703470

7
To be added


18 August 2020
ISBN 978-1974703487

8
To be added


17 November 2020
ISBN 978-1974703494

9
To be added


16 February 2021
ISBN 978-1974703500

10
To be added


18 May 2021
ISBN 978-1974703517

11
To be added


17 August 2021
ISBN 978-1974703524

12
To be added


16 November 2021
ISBN 978-1974703531
This article is a stub. You can help Urusei Yatsura Wiki by expanding it.
Community content is available under
CC-BY-SA
unless otherwise noted.