| | | |
| --- | --- | --- |
| " | Sorry to keep you waiting! I'm Lum. | " |
—Lum
Lum (ラム, Ramu?), sometimes called Lum Invader, is the female protagonist of Urusei Yatsura. She is the daughter of Mr. Invader.
History
Lum meets Ataru Moroboshi when he was randomly selected by a computer to face her in a game of tag with the fate of the earth on line. Ataru had been promised marriage by Shinobu Miyake if he could win, and upon catching Lum, he declared "Now I can get married!" and Lum mistook this as a proposal to herself and accepted it. As engagements are sacred on her planet, she's become completely determined to be married to Ataru for the rest of her life, falls completely in love with him, and refers to him as "Darling (ダーリン, Darling?)". Thus she's forced her way into his life as his "loving wife", and violently shocks him whenever he looks at or flirts with another girl (or if he does something to make her mad), but she always forgives him in the end.
Urusei Yatsura: Only You
Lum appears in this film of Urusei Yatsura: Only You and she attends Tomobiki High School, flying over Ataru. Megane plans to torture Ataru and find out who this "Elle" is. Lum saves Ataru inside the Clock Tower of school but it is soon revealed that she knew about Ataru's and Elle's marriage and came to torture Ataru further.
Personality
Lum's a sweet, innocent, faithful, and good-natured girl, but she can also get jealous and get hot-tempered, usually due to Ataru and his incessant addiction of flirting. However, in early chapters of the manga and at least till the start of season 2 of the anime, Lum had a nasty streak, almost antagonistic towards many of the characters. She even hatched schemes to be with Ataru when Shinobu was involved.
Appearance
Her ears are slightly pointy and she has long green hair. She has two tiny horns on her temples. She also has fangs on the top of her mouth.
Outfit
Tiger-striped bikini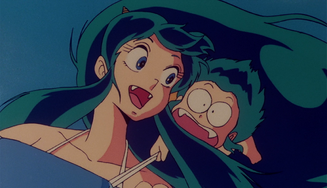 She wears a tiger-striped bikini (based on the tiger-striped loincloths of mythical oni, which were made out of a man's bad karma). Her bra's also used to hold some of her special devices.
School uniform
When she began attending school, she wore a sailor suit and tried to act like a typical earth girl.
Powers and other Abilities
Relationships
Speech
Lum refers to herself in the first person as "uchi (うち, uchi?)" and she's famous for usually ending her sentences with "~datcha (~だっちゃ, ~datcha?)". When used by itself, "datcha" means "Yes". A similar speech pattern appears in Takahashi's debut work Katte na Yatsura, where the dappyamen add "dappya (だっぴゃ, dappya?)" at the end of all their sentences.
Appellations
Quotes
Trivia
Gallery
References
Community content is available under
CC-BY-SA
unless otherwise noted.